By Asma'u Ahmad
The United Nations Office for the Coordination of Humanitarian Affairs (OCHA) says no fewer than 17 million people require humanitarian assistance in the Lake Chad Basin.
Public Information Officer in charge of the office in Nigeria, Ms Yasmina Guerda, made the disclosure in a statement issued on Wednesday in Abuja.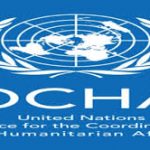 According to her, of the 17 million people, 8.5 million are in Nigeria's northeast, where 5.2 million people currently need food assistance in the three most affected states.
She said that 450,000 children are severely malnourished in Adamawa, Borno and Yobe states, the three states most affected by insurgency.
Ms Guerda said civilians continue to bear the brunt in the conflict that had led to widespread forced displacement and violations of international humanitarian and human rights law.
"Since the beginning of the conflict more than 20,000 people have been killed and thousands of women and children abducted. This year, over 80 children have been used as 'human bombs.'
"Attacks on IDP camps by suicide bombers raise serious physical security threats for IDPs living in those camps," she added.
The public information officer noted that despite the immense challenges, the government-led response is reaching millions of people with life-saving aid.
She said the government response includes two million people who receive food aid every month and hundreds of thousands of children who benefit from nutritional support.
She said that UNOCHA had also provided critically needed psycho-social support to 160,000 children and supported hundreds of children and women who were associated with armed groups to be reintegrated.
"The United Nations and our partners are 100 per cent committed to supporting the people of northeast Nigeria. We are committed to reacting swiftly to new crises such as the recent cholera outbreak.
"We are committed to supporting Nigeria in all that it is doing to tackle the significant humanitarian challenges and we commend the government for progress made on the ongoing food distribution," she said.