By Asma'u Ahmad
The National Blood Transfusion Service (NBTS) has called for the enactment of a Bill to establish a centrally coordinated blood service into law.
National Coordinator of the centre, Mrs. Oluwatoyin Smith made the call in an interview with newsmen in Abuja.
She said that the draft Bill on the issue was being considered by the Minister of Health, Prof. Isaac Adewole.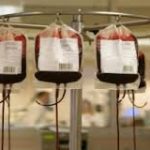 She expressed optimism that when approved by the ministry and submitted to the National Assembly for legislative processing, the Bill would grant the NBTS full autonomy.
"The legal instrument will also guarantee dedicated funding from the Federal Government`s annual budgets for capital and recurrent expenditures, improve data and information management system on blood
safety in the country," she said.
According to her, the Bill will secure dedicated budget line for overhead and recurrent appropriation for the NBTS to cover at least 50 per cent of the implementation budget.
She added that it would mobilise resources and support for NBTS' activities through a Public Private Partnership initiatives to cover 50 per cent of the implementation budget.
Mrs. Smith said that the Bill would aid the establishment of cadres of core technical staff, Blood Donor Recruiters, counsellors as well as build capacity on blood safety practices.
She expressed optimism that the enactment of the Bill would increase the number of blood collection sites and increase linkages of hospitals to NBTS screening centres.
The national coordinator, however, attributed the centres` present challenges to low public awareness on voluntary non-remunerated blood donation arising from deep cultural myths and misconceptions.
She said that there were no specific laws guiding or regulating transfusion practice, collection and he the use of blood and blood products in the country.
She listed some other challenges of the centre to include fragmented and poorly coordinated blood services, inadequate funding from government and withdrawal of donor funds.
"The withdrawal of the donor funds is been a huge challenge, we are currently providing skeletal services at most of our centres where most of the former project staff have stayed on as volunteer staff.
"In the short term, we are pursuing the absorption of these staff at the ministry level and a semi-autonomous status of the NBTS as a self-accounting unit which will ensure dedicated funding," she added.
She said that the organisation had suffered inadequate manpower and capacity, especially core technical staff like lab scientists, nurses, counsellors and donor recruiters.
Other challenges, she said were inadequate participation by the private sector in blood safety issues and use of paid and family replacement blood donors in healthcare facilities.