By Haruna Gimba
The Chairperson of the African Union Commission (AU), Mr Moussa Faki Mahamat, has congratulated Dr Tedros Adhanom on his historic election as the first ever Director-General of the World Health Organisation (WHO) from the African region.
Dr Adhanom emerged victorious in a tough election against two strong candidates; Dr Sania Nishtar from Pakistan and Dr David Nabarro from the United Kingdom.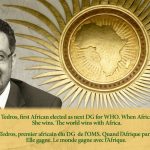 "The world has chosen a consummate global health statesman with a strong track record of embedding global public health and health security as a vital cornerstone of human development," the AU Commission chairperson said.
Dr Adhanom was recently at the helm of drafting The African Union Agenda 2063, which represents the strategic framework guiding Africa's development priorities for the next fifty years, while serving as Chair of the Executive Council of the AU.
Mr wishes Dr Tedros a successful tenure at the helm of WHO robustly working towards a better, healthier future for all people around the globe.
The AU Commission affirms its support of Dr Tedros's priorities which include WHO reform; universal health coverage; health security; women, child and adolescent health; and the health impacts of climate and environmental change.
The AU Commission chairperson also thanks African Ministers of health for their united and steadfast support for Dr Tedros during the campaign.
"When Africa speaks with one voice, she wins," he said.