By Haruna Gimba
The Executive Director of the United Nations Population Fund (UNFPA), Dr Babatunde Osotimehin, passed on Sunday in his home in New York City, United States of America.
Dr Osotimehin, a former Nigerian health minister and also former head of Nigeria's AIDS agency, National Agency for the Control of Aids (NACA), was one of the most senior Nigerians within the United Nations system.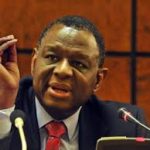 The 68-year-old former Provost of the College of Medicine at the University of Ibadan, is suspected to have died of cardiac arrest, even though this is yet to be confirmed.
A family member said the funeral rites of the late professor would be announced at a later date.
Dr Osotimehin became the Executive Director of UNFPA on November 19, 2010 and served a four-year term and was re-appointed on August 21, 2014 for a second term.
Born on February 6, 1949, Dr Osotimehin attended Igbobi College between 1966 and 1971. After his medical studies at the University of Ibadan, he received a doctorate in medicine from the University of Birmingham, United Kingdom, in 1979. He was married with five children and several grandchildren.
Meanwhile, the Acting President, Professor Yemi Osinbajo has expressed shock and sadness at the death of the former minister of health.
"On behalf of the people and Government of the Federal Republic of Nigeria, Prof Osinbajo extends heartfelt condolences to his wife, children and entire family over the passage of their beloved father, grandfather and also an illustrous Nigerian," the acting president said.
He commiserated with the staff of the UNFPA and the entire UN system on the demise of a very remarkable international public servant, who served passionately, diligently and worked tirelessly at the global and national stages to reduce maternal mortality and promote universal access to reproductive health.
Professor Osinbajo said Dr Osotimehin, who had a distinguished career as medical doctor and teacher before he served as a cabinet minister in Nigeria, and later at the UN, will be long remembered for his many significant developmental contributions at home and in the international community.