By Asma'u Ahmad
The State Coordinator of the Adamawa State HIV/AIDS Control Agency, Dr Steven John, said the agency will embark on a house-to-house visit in order to identify and confirm TB and HIV positive cases for quick treatment.
Dr John made this disclosure on Thursday in an interview with the
newsmen in Yola, the state capital.
He said that the gesture would ensure a quick response to cases of HIV and Tuberculosis (TB) in the state.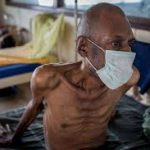 Dr John said that the TB and HIV units had already built up a capacity that was ready to carry out the task.
He said that the programme would reduce the high rate of infections before diagnosis. "We have just trained some Communities Based Organisations (CBOs) and Communities Volunteers (CVs). This training is to meet the International standard operational procedure, developed to provide appropriate guidelines for implementing community TB and HIV intervention among Internally Displaced Persons' (IDPs) camps and host communities.
"The training is geared towards ensuring that all implementers have a common understanding and approach for the community intervention initiative across the project site," he said.
He said that the spread of the disease was worrisome to the Adamawa Government, adding that the government would step up health programmes to control the spread of such diseases.
The coordinator also lauded international donor organisations for
their support in ensuring that both HIV and TB pandemics were fought Koto a standstill.