By Haruna Gimba
No fewer than 56 Nigeria's Civil Society Organizations (CSOs) have called on the country's Minister of Health to ensure funds are released in time for Family Planning to improve the health of Nigerian women.
The call was made in a letter submitted to the Health Minister, Professor Isaac Adewole on Thursday ahead of the ongoing London Summit on Family Planning 2020 (FP2020).
In the letter, signed by the Project Director, Community Health and Research Initiative (CHR) and Coordinator Africa Health Budget Network (AHBN), Dr Aminu Magashi Garba, the CSOs observed that between 2012 and 2016, the Nigerian Government met just 11 per cent of its FP2020 pledge to provide $3 million per year for the purchase of family planning commodities and an additional $8.35 million for life-saving maternal, newborn, and child health commodities.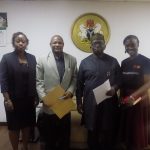 This current expenditure according to the CSos is insufficient to support Nigeria's achievement of the National Family Planning (FP) mCPR goal of 36 per cent by 2018.
The CSOs however commended the minister for allocating over N900 million (about $3.17 million) in the 2017 appropriated health budget, for the procurement of FP Commodities.
The letter also indicated the CSOs commitment to support the Health Ministry, the Ministry of Finance and that of Budget and National Planning to ensure these funds are released on time this year, for the procurement of FP commodities and funding of Nigeria's Family Planning Blueprint (Scale-up plan).
"We the CSOs working in the nation's health sector have experienced a tremendous turn-around following the commitment of the Health Minister to transparent and accountable Ministry of Health," he said in the letter.
"Your commitment as the minister of health is as a result of your continuous engagement with CSOs at various levels to ensure inclusiveness and participation as demonstrated by your meeting with Nigerian CSOs during the 2016 Ministerial Conference on Immunization in Addis Ababa.
"The introduction of the quarterly interactive accountability forum tagged '#OpenFMoH' and your partnership with CSOs to hold consultation on the Roadmap for Addis Declaration on Immunization before the World Health Assembly," Dr Magashi further said in the letter.