By Ndidi Chukwu
The Minister of Health, Professor Isaac Adewole has commended the Bauchi State Government and Governor Mohammed Abdullahi Abubakar for being the first state in Nigeria to reach the 15 per cent Abuja declaration.
Professor Adewole also commended Governor Abubakar for the state's commitment in Healthcare financing. The minister made the commendation in his keynote address at the Inaugural Bi-annual Media Summit of the Association of Nigeria Health Journalists (ANHEJ) funded and supported by Community Health and Research Initiative (CHR) on Thursday.
Speaking on the theme of the summit, "Persistent poor implementation of Health Sector Budget, the role of the media" and its sub-theme "NHAct yet to be implemented three years after passage; where is the media?" Prof Adewole said the nation's health sector needs funding and the need for all stakeholders to talk about investment in health and the huge outcome the nation would derive from it.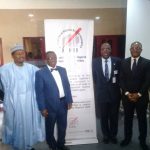 To achieve this, he emphasized the need for improved budgetary allocation for health and the need for the country to reach the 15 per cent Abuja declaration which will improve healthcare financing.
He said: "Bauchi State is leading by example in terms of health budget allocation, I commend the state for being the first to reach 15 per cent Abuja declaration, it is what we want to see at every level of government, other states can also learn from the Bauchi example."
The Health Minister pledged the support of the Federal Ministry of Health to ANHEJ in health media advocacy, adding that the media have the capacity to improve health budget implementation in Nigeria by asking questions on why the Nigeria's Health sector does not get the type of budgetary allocation it deserves, the health budget allocation
and the value of the funding in reaching service delivery.
On the implementation of the 2014 National Health Act, he said the operational guidelines have been developed and are being implemented but what is left is the implementation of the 1% Consolidated Revenue Fund (CRF) for health as recommended by the Act.
He therefore urged the media to support the Federal Ministry of Health to change the narrative of the healthcare system through objective reportage of health issues with focus on developmental reporting.
Earlier this year, the CHR collaborated with the Bauchi state government and launched the 2016 scorecard for the government's five point health agenda tagged "Lafiya Garkuwa".