By Ndidi Chukwu
The Kano state Government has inaugurated a 35-member Technical Consultative Group (TCG) for Saving One Million Lives Programme for Result (SOML-PforR), in an effort to fast track the implementation of the programme.
The state Commissioner for Health, Dr Kabiru Ibrahim Getso, who inaugurated the committee said the TCG will track progress, identify bottlenecks and challenges as well as proffer solutions to ensure more lives are saved in the state.
Dr Getso said that despite the fact that the state emerged first in the Zonal readiness assessment for SOML take up, there are still concerns with the speed of implementing SOML project and hoped that the committee will be a breaking point to the sluggish progress of SOML implementation in the State.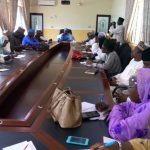 He challenged the committee to ensure that SOML funds are spend appropriately in order to achieve the desired results and as well to make the State qualify for greater subsequent funding by the federal Government.
The commissioner commanded Community Health and Research Initiative (CHR) and other partners, saying they were included in the TCG to provide the needed technical support.
Our correspondent report that the TCG mandate includes;
Assess the progress made in the implementation of the SOML PforR.
Review the yearly work plan of the SOML PforR programme based on
available data to improve the performance of the Programme.
Identify bottleneck and challenges militating against the smooth
running of the SOML PforR and proffer solution.
Share best practices and lesson learnt in the implementation of the SOML PforR with relevant stakeholders.
Discuss way forward on improving utilization of SOML services with a view to achieving result.
Come up with mechanism of fast tracking implementations of SOML project.
Health Reporters report that the CHR's Acting Executive Director, Salisu Musa was at the meeting. Salisu Musa who is also the Finance Officer of PACFaH, will be representing the organization in subsequent meetings.