By Asma'u Ahmad
The United Nations Children's Education Fund (UNICEF) said 103,742 children die annually in Nigeria due to lack of exclusive breastfeeding.
A UNICEF Nutrition Specialist, Mrs Ada Ezeogu, made this known at a media dialogue on Breastfeeding and Global Breastfeeding Collective. It was organised by Child Rights Information Bureau, Federal Ministry of Information and Culture, sponsored by UK Department for International Development (DFID) on Friday in Ibadan.
The nutrition specialist, while decrying the low uptake of exclusive breastfeeding in Nigeria, said that the gap or lapses robbed 5.4 million children yearly of its benefits.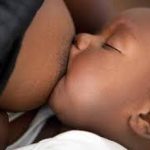 "Delaying breastfeeding for two to 23 hours after birth increases the risk of dying 
within 28 days
 of a baby's life by 40 per cent. Based on UNICEF fact sheet, the low rate of Exclusive Breastfeeding (EBF) leads to 103,742 child's deaths and translated to almost 12 billion dollars in future economic losses for the country. "The summation of low cognitive development, low IQ and health costs in inadequate breastfeeding is estimated to cost the country economy 21 billion dollars per year or 4.1 per cent of its gross national income," Mrs Ezeogu said.
She said that exclusively breastfed babies were 14 times less likely to die than those not breastfed. "Breastfeeding reduces the incidence of death in newborns as they account for close to half of all deaths of children under the age of
five. Breastfeeding is expected to be initiated within one hour after birth, the longer the delay, the higher the risk of death in the first month of life," Mrs Ezeogu added.
She described breastfeeding or breast milk as a perfect food, best protection for child against an array of illnesses and diseases and all-encompassing food for babies. According to her, this has contributed to the country's problem of chronic malnutrition resulting to the current 11 million malnourished under five children.
The UNICEF Communication Specialist, Mr Geoffrey Njoku. said that dialogue was aimed at partnering with the media in increasing the rate of EBF in the country. In his remarks, Mr Tejinder Sadhu, the Chief of Field Office UNICEF, Akure, said that 13 per cent of child's death would be averted, if 90 per cent of mothers could exclusively breastfeed their infants in the first six months of life.
Mr Sadhu said that breastfeeding was beneficial to the national economy by assisting in lowering healthcare costs, increase educational attainment, as well as boosting activities.