By Asma'u Ahmad
A Professor of Medical Sociology, Ayodele Jegede, has called on the Federal Government to establish a National Disease Observatory System (NDOS) to document information on disease distribution across regions in the country.
Professor Jegede, who is the Dean of Faculty of Social Sciences, University of Ibadan, made the call in Ibadan while delivering the 419th Inaugural Lecture of the University on Thursday. Newsmen report that the lecture was entitled "The Forest Through the Trees: Themes in Social Production of Health."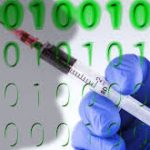 He said that if Nigeria has data on diseases across the country by type, location and local practices, it would assist in clinical practice and preparedness for epidemics and treating of diseases of emergencies such as hemorrhagic Ebola Virus Disease.
The don said that the national disease data base would be useful in training health workers so as to equip them properly for the task of community based service delivery. "Nigerian hospitals were once described as "mere consulting clinics. Lack of political will and poor funding of health care system and the state of the Nigerian health system has left the people with no clinic to consult.
"Nigeria has been robbed of the gains of the Primary Health Care Programme of the mid-'90s as it has nose-dived. As a result, the same problems that predated the PHC era are still with us and dominating the health agenda," he said.
He said due to loss of economic power and low purchasing power, people now tend to attribute their illnesses to spiritual causes and seek alternative health care service.
Prof. Jegede, however, said that universal health coverage was vital to the achievement of the Sustainable Development Goals. He called on the Federal Government to as a matter of urgency improve primary healthcare service delivery in Nigeria.
The university don said that corrupt practices remain a major reason for the failure of primary health care system in Nigeria and urged the Federal Government to extend its current anti-corruption crusade to the health sector.