By Mary Jalingo
The Niger State Planning Commission said that improving nutrition contributed to productivity, economic development and improve health.
Commissioner of the planning commission Alhaji Muhammad Nda stated this during a one day Town Hall meeting organised by the commission in collaboration with the United Nations Children's Fund (UNICEF) held in Minna, the state capital.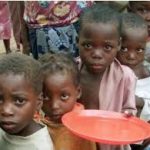 He said poor nutrition perpetuates the cycle of poverty and malnutrition, noting that every progressive government must pay adequate attention to eliminate the malnutrition from the society.
Also speaking, Programme Officer of the Civil Society Scaling Up Nutrition in Nigeria (CS-SUNN) during his presentation on the overview of nutrition and coordination in the state.
He said there is a record of 7000 neonatal deaths and 19,000 under five mortality in the state which he noted was on the high side.
Mr Okoronkwo said N60 million being allocated to nutrition activities in the state was grossly inadequate as the minimal amount needed to treat malnourished child was about N50, 000.
Speaking in her welcome address, the State Nutrition Officer, Hajiya Amina Isa, said the state has a very high cases of malnutrition with little funds allocated and called for collaboration among stakeholders towards ensuring increase allocation for nutrition activities in the state.
She noted that because malnutrition was very expensive to treat, government both at the state and local government level must also ensure that allocated funds were released on time.