By Asma'u Ahmad
Some universities in Australian on Monday say they will join a global initiative which tracks the link between health and climate change.
First published in October 2017, the Lancet Countdown report measures 40 indicators related to climate change including change impacts, adaptation planning, mitigation actions, economic costs and public and political engagement.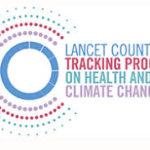 Senior Lecturer at University of Sydney's School of Public Health, Zhang Ying, said a group of Australian academics and researchers would collect data from different sources, including policy analysis, renewable energy programmes, health impacts and disease data.
"Australia is one of the top countries for carbon emissions per capita and we really want to track the progress of what we have done in terms of health, protection, policy and environmental management. "But most importantly, we need to know where the gaps are, to make improvements for the future," he said.
Hoping to raise awareness of health issues related to climate change among Australian medical professionals, the inaugural Australian report is planned for release in late 2018 and will be updated annually until 2030.