By Haruna Gimba
The Community Health and Research Initiative (CHR), has commended Mr. Bill Gates and Alhaji Aliko Dangote for supporting and extending their MoU with the governments of six northern states on sustainable funding for Routine Immunization (RI) and child health in Nigeria.
A statement from CHR, a Nigerian NGO committed to research, budget advocacy and accountability in maternal newborn and child health, stated. It would be recalled that Mr Gates, Aliko Dangote and the governors of the six northern states of Kano, Kaduna, Yobe, Borno, Sokoto and Bauchi were in Sokoto on Wednesday 21st March 2018, where they signed the renewal of their existing agreement on strengthening funding for RI aimed at ending vaccine-preventable child deaths in Nigeria.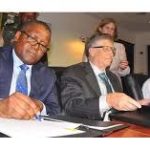 "We wish to genuinely commend the duo of Mr Bill Gates and Alhaji Aliko Dangote for their unrelenting support to child health in northern Nigeria over many years, particularly their support for RI," a press statement signed by CHR's Director, Salisu Musa Muhammad read.
"Since 2013, Gates and Dangote has been actively supporting efforts targeted at achieving sustainable funding for RI and eradication of polio virus out of Nigeria."We particularly wish to commend the personal commitment they have shown to improving child healthcare in Nigeria which could be seen in the fact that they always personally participate in the mid-and-end of year review meetings of the situation of child and primary healthcare in the states of their intervention, despite their obviously very busy schedules. "We believe the commitment the duo have demonstrated improved immunization services in the country is but second to none," the statement added.
The CHR, therefore called on the governors of the six respective states that have signed the MoU extension with the Gates Foundation and Dangote Foundation to remain committed of the MoU by ensuring timely payment and release of their counterpart funding adding that, "doing so would be their way of encouraging the exceptionally magnanimous gestures of Mr Gates and Alhaji Dangote to the millions of children that would benefit from the RI interventions."
CHR also called on rich Nigerians particularly those from the northern region to emulate Alhaji Dangote "by also committing their resources to the development child and primary healthcare in the northern region, which has the poorest child health indices in the country."
"We believe the likes of Alhaji Aminu Dantata, Alhaji Abdulmunaf Sarina (owner of Azman Air); Alhaji Abdulsamad Rabiu (owner of BUA Group) as well as Alhaji Auwalu Abdullahi (owner of AA Rano Group) are all well-placed to also contribute their quota to the quest to end child and maternal mortality in northern Nigeria.
"We are of the opinion that by also committing their resources to this initiative, they will not only be saving lives but also discharging their corporate social responsibility (CSR) to Nigerians," the statement added.