By Ndidi Chukwu
Community Health and Research Initiative (CHR) through the advocacy committee of National Immunization Financing Task Team (NIFT) on Thursday held a one-day consultation meeting on the draft of Road Map for implementing Addis Declaration on Immunization (ADI).
The meeting organized in collaboration with the Federal Ministry of Health, was the first since the Addis Declaration on Immunization was signed in 2016.
Nigerian Government signed the Declaration with other African Nations during the 2016 Ministerial Conference on Immunization by the Minister of Health, Prof. Isaac Adewole in Addis Ababa, to ensure African nations' commitment to fund immunization and develop country mechanisms for sustainability.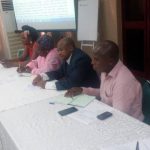 The consultation meeting which held in Abuja had in attendance Deputy Chairman House Committee on Health, Muhammad Usman, Director Public Health, Dr Evelyn Ngige, and two Deputy Directors of the ministry, NIFT Chairman Dr Ben Anyene, CHR-PACFaH Project Director, Dr Aminu Magashi.
Others are IVAC, CHAI, WHO country office, Save the Children representatives as well as other relevant CSO groups.
Our correspondent report that the stakeholders consultation hosted by CHR brought stakeholders to work with the Nigerian government to conduct a quick review of the three strategies in the Addis Declaration on Immunization, and also needed recommendation for inclusion before the ADI road map is finalized by the WHO.
For Nigeria to own the roadmap, the stakeholders also worked together in support of the Nigeria's Minister of Health with relevant information for onward submission to the WHO during the 70th World Health Assembly in mid-May.
While delivering her opening remark, Dr Evelyn Ngige, said Nigerian government is committed to Immunization financing and willing to work with all the stakeholders to ensure implementation of the ADI roadmap targeted at boosting routine immunization activities in the country.
She also commended CHR and NIFT, for organizing the consultation meeting and pledged the Federal Government's commitment to lead in ensuring full implementation of ADI
Health Reporters gathered that the Nigerian review roadmap will be presented by Prof. Adewole during the 70th World Health Assembly next week, at a Global Vaccine Action Plan session (GVAP).