By Asma'u Ahmad
The Civil Society Scaling up Nutrition (CS-SUNN), has urged government at all levels to ensure timely release of funds for nutrition activities in order to combat malnutrition among children.
The Project Director of the organisation, Dr. Beatrice Eluaka, made the call on Tuesday in Karu, Nasarawa State, during a one-day capacity building.
The training was organised for the Nasarawa state members of the Committee on Food and Nutrition in Karu Local Government Area.
Dr. Eluaka said that timely release of fund would not only tackle the menace of malnutrition but would also improve on the standard of living of the people especially women and children for the country's development.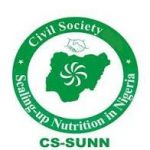 "The training is aimed at advocating the need to stimulate community to scale up nutrition with specific focus on maternal and child nutrition in Nasarawa state and other parts of the country.
"I want to use this medium to call for strong collaboration between Civil Society Organisations (CSOs), Non-Governmental Organisations (NGOs), development partners and government agencies to fight malnutrition in the society.
"This is because malnutrition is a development issue in which we need to address its holistically. So, what I am saying now is that no one sector alone can address the issue of malnutrition, hence the need for collaboration," she said.
Dr. Eluaka, however, noted that malnutrition-related death among children under-age of five is uncalled for.
She added that there was the need to improve on balanced diet for children so as to improve on their standard of living.
Earlier, the Permanent Secretary, Nasarawa State Ministry of Finance and Economic Planning, Malam Muazu Adamu, said that the training workshop was to improve on collaboration among ministries, NGOs intervening on nutrition and the state committee on nutrition.
Malam Adamu, who was represented by Malam Abdul Osama, the ministry's Director of Planning, assured the state government's commitment towards curtailing malnutrition in the state.
He reiterated the state government's commitment to continue to key into positive policies and programmes that have direct bearing on the lives of children and women in the state. Newsmen report that the workshop brought together nutritional focal persons in all the local government areas of the state.
Others were members of the state committee on food and nutrition of various ministries, departments, agencies, NGOs and CSOs, among others.