By Asmaú Ahmad
The Chief Medical Director of the Federal Medical Centre (FMC), Yola, Professor Auwal Abubakar, has led medical doctors and successfully separated four month old conjoined female twins.
The chief medical director disclosed the development to newsmen at a news conference held on Friday in Yola.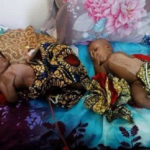 "We have a successful separation of conjoint female twins (Omphilopagus). The development is recorded following a team work from different medical units,'' Prof. Abubakar said.
He said that the surgery was conducted on May 14, adding that the chance of survival of the twins was "excellent.''
Professor Abubakar said it took his team four hours to perform the operation which is the second of its kind conducted in the hospital.
He noted that Nigeria had medical personnel that could compete with their counterparts in developed countries.