By Asma'u Ahmad
A medical practitioner, Dr Tunji Akintade, on Tuesday called on the three tiers of government to increase the funding of primary healthcare system toward achieving universal health coverage.
Dr Akintade, also the Chairman, Association of General and Private Medical Practitioners of Nigeria (AGPMPN), Lagos State Chapter, made the call in an interview with newsmen in Lagos.
According to World Health Organisation (WHO), Universal Health Coverage Day, commemorated each Dec.12, is the anniversary of the first unanimous United Nations resolution.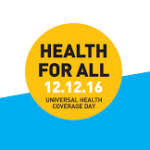 "Universal health coverage has been included in the new Sustainable Development Goals (SDGs) adopted by the United Nations. It means everyone can access the quality health services they need without financial hardship.''
Akintade said that health institutions, especially primary healthcare, should be fully operational by providing necessary health personnel and funding for people at the grassroots.
He said: "Addressing every challenge facing the primary healthcare system will really improve healthcare system in the country. Increasing the budgetary allocation to health sector will also help health institutions and health personnel to achieve the universal health coverage.
"Nigeria's budget for health sector, which is 6.5 per cent, has not met the World Health Organisation (WHO)'s recommendation of   not less than 15 per cent of the nation's total budget. Access to proper medical care is one of the principles of primary healthcare in Nigeria.
Akintade said to achieve universal health coverage, proper training of health personnel and human resources at the primary, state and federal health institutions is very important.
He also urged the state governments to incorporate the private sector in the system to help the primary, state and federal health institutions to increase universal health coverage.