By Asma'u Ahmad
The Federal Government has inaugurated a radiotherapy centre with new Multileave Linear Accelerator, LINAC for cancer treatment on December 2, at the National Hospital Abuja.
The centre inaugurated by the Wife of the Vice-President, Mrs Dolapo Osinbajo, in an effort to reduce the burden of the terminal illness in the country.
The journey to this noble feat began late in 2016 when the Minister of Health, Professor Isaac Adewole paid a working visit to the National Hospital, Abuja, to assess the state of infrastructure and discovered that a brand new radiotherapy machine was purchased and supplied in 2013 but was not installed.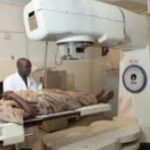 Nigeria has the highest concentration of cancer cases in Africa; reports show that 100,000 new cases occurred yearly and 15 per cent deaths are recorded, representing 20 per cent of Africa`s death ratio.
The most unfortunate perspective is that cancer can ravage anyone irrespective of status, age, sex, tribe or religion.
Suffice it to say that Cancer, the name given to a collection of related diseases whereby some of the body's cells begin to divide without stopping and spread into surrounding tissues, has become one of the most deadly leading causes of death globally.
Recent researches conducted by the International Agency for Research on Cancer (IARC) in collaboration with National Cancer Institute, United States, reveals that 12.7 million new cases of cancer were discovered in 2008.
The report also shows that 7.6 million cancer related deaths were recorded and as at 2012, the number of deaths globally had increased by 100 per cent to 14 million. It is also projected that by the end of 2030, 30 million people, representing 39.6 per cent of both men and women living with cancer, were likely to die.
An overview of this frightening analysis further reveals that 56 per cent of the newly reported cancer cases occurred in developing countries, with Africa having the highest number of morbidity and mortality. This has been attributed to geometric increase in population growth with the commonest of cancers being the cervical, breast, colon and prostate.
But prior to now, the disease has claimed the lives of "unknown'' Nigerians like Mrs Maria Essien, Dr Kate Ogbeh, Miss Funke Omotayo, Mr Okechukwu Ebizie and Mr Usman Abdullahi. Also prominent Nigerians like the former Minister of Information in the President Goodluck Jonathan's administration, Mrs Dora Akunyili, two former Managing Directors of the News Agency of Nigeria