By Muhammad Auwal 
The Federal Government of Nigeria has reassured its commitment to the full implementation of the National Strategic Health Development Plan (NSHDP II).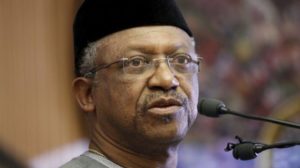 Minister of Health, Dr Osagie Ehanire, gave the assurance in a statement issued by the Assistant Director of Press and Publicity of the ministry, Madam Eunice Akro, on Wednesday in Abuja.
The Minister was quoted as giving the assurance at the Strategic Retreat for Principal Officers of Health Committee of the 9th National Assembly.
He said that the health sector have principles and instruments that would determine and guide the organisation thrust as well as the President Muhammadu Buhari's administration's agenda and passion for a healthy Nigeria.
According to him, the National Health Policy developed in 2016 and the NSHDP II (2018-2022) if faithfully implemented, will help attain this goal.
He said the goal of the policy was to strengthen Nigeria's present Primary Health Care (PHC) system.
The Minister explained that the mission was to provide health sector stakeholders with a framework that would enable them to harness resources to develop healthcare system of the country.
He said the focus was aimed at achieving the Universal Health Coverage, as enshrined in the National Health Act (2014) in alignment with the UN Sustainable Development Goals (SDGs).
He said the objective was to develop and implement appropriate policies and programmes and undertake other necessary actions that would strengthen the National Health System to enable it deliver effective, quality and affordable health services.
Ehanire pointed out that access to affordable healthcare for all was a cardinal element of the Universal Health Coverage, to which Nigeria was a signatory as a global agenda item of SDGs.
In his remarks, the Chairman, Senate Committee on Health, Dr. Ibrahim Oloriegbe, said the retreat was put together to acquaint Principal Officers of both chambers of the National Assembly Health Committee on the present policy thrust in Nigeria's Health Sector.
Oloriegbe said the retreat would define a collective broad legislative health agenda for the health sector in the next four years.
It would as well ensure synergy and improved working relations as well as cohesion amongst all stakeholders in the health sector to achieve optimal impact in the healthcare reforms.
Dr Clement Peters, representative of the World Health Organisation (WHO), said that legislative agenda have the purpose of focusing, catalysing and mobilising political actors towards achieving Universal Health Care (UHC), through policy dialogue and high-level political engagement.
Similarly, the Country Director, World Bank, represented by Rachid Benmessaoudi commended the 9th National Assembly for organising the retreat and observed that it would help to emphasize the social contract with Nigerians on Health Care Service delivery.
"It was particularly good for the teeming poor rural dwellers and vulnerable people in Nigeria," he said.
Also present at the retreat were representatives of Bill and Melinda Gates Foundation, European Union (EU), United States Agency for International Development (USAID) amongst others.