By Asma'u Ahmad 

The World Bank has allocated 
$10
million grant to the Gombe State Government to prevent problem of acute malnutrition in the state.
Permanent Secretary of the state Ministry of Economic Planning, Mr Steven Danladi, disclosed this at the Executive-Legislative and Media roundtable on budgeting for nutrition in the state.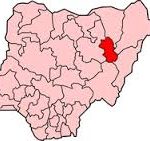 The meeting was organised by the Civil Society Legislative Advocacy Centre (CISLAC) on Friday in Gombe. He said that the state was among the 12 states that got the allocation with a commitment of N50 million annual releases for five years to facilitate implementation of the project in the state and to access the fund.
According to him, the state government has technically started pursuing the release for immediate implementation. He said the state government was concerned over the problem of malnutrition and is doing its best to redress the challenge.
The state Permanent Secretary, Ministry of Health, Hajiya Laraba Ahmad Kawu, urged traditional rulers to sensitise their subjects, especially husbands, to be providing good food for the family to avoid the problem of malnutrition in their respective communities.
She regretted that sometimes husbands were not providing enough for their wives, especially for the nursing mothers to breast feed their children when it came to exclusive breastfeeding. According to her, this also contributes to having malnourished children.
Programme Officer of CISLAC, Murtala Muhammad, said that the aim of the conference was to address the problem of malnutrition especially with regard to improvement on nutrition budget allocation, releases and accountability in Northern Nigeria.
He said this would also help government address the problem. "It is our own responsibility to assist for something to be done in addressing the problem to rescue the children affected with malnutrition," he said.
According to him, Nigeria is among the 20 countries contributing to 80 per cent global malnutrition burden and about 2.5 million Nigerian children are malnourished.