By Asmau Ahmad
The Executive Governor of Kano State located in the northern part of Nigeria Dr Abdullahi Umar Ganduje has established the Governing Board of Kano State Ultra-modern Specialist Hospitals (KUSH) which shall be managed via a Public-Private Partnership (PPP4Health).
This was contained in the letters of appointment issued to the pioneer board members of KUSH signed by the Secretary to the State Government Alhaji Usman Alhaji. The appointment is with effect from 16th April 2018 for a four year term.
Dr Aminu Magashi Garba Coordinator of the Africa Health Budget Network is appointed to chair the Governing Board, who previously since November 2017 was chairing the advisory committee saddled with the responsibility of planning the take-off of the hospitals including securing the legal framework for their operation.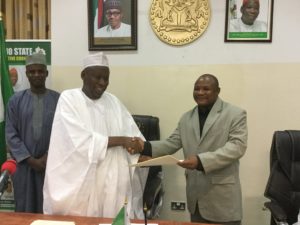 Other Members of the board are as follows;
Dr Kabir Ibrahim Getso Honourable Commissioner of Health
Alhaji Aminu Muktar Dan'amu Honourable Commissioner of Finance
Alhaji Muhammad Adamu Gwangwazo Permanent Secretary Kano State Due Process Bureau
Hajiya Bilkisu Shehu Maimota Permanent Secretary Research, Evaluation and Political Affairs Directorate, Office of Secretary to the Government
Alhaji Lawan Alhassan Director General Kano State Investment Promotion Agency
Dr Musa Muhammad Bello of Accountability for Maternal, Newborn and Child Health in Kano
Matron Rakiya Garba, Proprietor AMINURAN MCH (Private Nursing Home)
Umar Yarima Principal Partner Umar Yarima and Co (chartered accountant)
Hajiya Hafsat Kolo of Partnership for the Promotion of Women and Child Health
Chief Executive Officer (CEO) – corporate private manager of KUSH
The two commissioned hospitals, (Muhammadu Buhari and Zoo Road Pediatric Specialist Hospitals) shall be run via Public-Private-Partnership (PPP) guided by a law that provides for the establishment of Kano State Ultra-Modern Specialist Hospitals (KUSH) with its Governing Board which was passed by the State legislative Assembly and assented by the Executive Governor of Kano State on Wednesday 21st and Sunday 25th March 2018 respectively.
According to the law, KUSH shall be a corporate autonomous body under the supervision of the Executive Governor and shall report directly to him. Its governing board shall be responsible for providing general policy, guidelines and oversight relating to the operations of KUSH as well as appointing CEO who shall manage the affairs of the KUSH.
Other relevant stories on this can be found below;
http://healthreporters.info/governor-ganduje-of-kano-state-signs-state-ultra-modern-specialist-hospitals-law-which-provides-framework-for-public-private-partnership/
http://healthreporters.info/kano-state-government-inaugurates-advisory-committee-and-named-dr-aminu-magashi-garba-as-chair/