By Haruna Gimba
The National Advocates for Health (NA4H) has called on President Muhammadu Buhari to increase health budget and ensures timely release of allocated fund to health sector budget in 2018.
The group in a statement issued to newsmen in Abuja, said it is also committed to track the implementation of the Basic Health Care Provision Fund (HUWE) using an accountability framework.
According to the chairman of the group, Professor Dapo Ladipo, these were among the resolutions of a one day Symposium on framing for advocacy and accountability for effective implementation of 2018 National Health Budget, Basic Health Care Provision Fund (BHCPF) and Global Financing Facility (GFF) convened by the group in Abuja.
Professor Ladipo said the group has also observed that the 2018 approved budget is about N9.12 trillion, with only N356 billion earmarked for health which represents 3.9 per cent.
"When compared to the 2017 health budget, which was an aggregate sum of N308.464 billion being 4.15 per cent of the 2017 approved budget; the Federal Government commitment to the 2001 Abuja declaration of allocating at least 15 per cent of total national budget to health is declining rather than improving.
"The 2018 approved budget has earmarked as health capital expenditure the sum of  N55.1 5 billion to the Basic Health Care Provision Fund (BHCPF), while this is commendable , however we notice that it is not captured as a statutory transfer as provided by section 11 of the National Health Act, 2014," Ladipo was quoted as saying in the statement.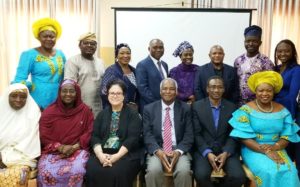 The group stated that, "As a matter of urgency, we call on President Muhammadu Buhari to submit a supplementary health budget to the National Assembly in order to raise its percentage to at least 7.5 per cent this year and in subsequent years raise the budget by 1% point increase.
"The president should also direct his Minister of Finance to release the N55.15 billion at once earmarked for the Basic Health Care Provision Fund and when commencing 2019 budgetary process to ensure it is captured as a statutory transfer."