Group donates N9m for treatment of cancer patients
By Muhammad Auwal
An NGO, MedicAid Cancer Foundation has donated N9,654,725 for the treatment of 30 cancer patients in National Hospital, Abuja.
Founder of the foundation and wife to Kebbi Governor, Dr Zainab Atiku Bagudu said that the donation was meant to support the high cost of their treatment.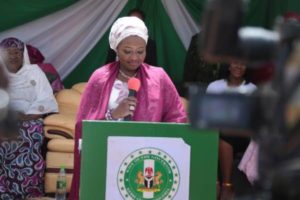 She said: "This donation is in fulfillment of our last visit and our pledge to support cancer patients' treatment.
"Beyond this financial support, we want to bring in a facility that can help them to get better.
"We are advocating that cancer care be included in the National Health Insurance Scheme (NHIS). We are also
calling for more funding for cancer treatment to be included in the budget.
"This is because patients pay out of pocket and we know how expensive it is to get treatment."
Chief Medical Director of the national hospital, Dr Jafaru Momoh who received the cheque for the donation, thanked the foundation and promised to use the money judiciously.
"Cancer is not a respecter of persons and the scourge is across all geo-political zones. And since we are at the centre of excellence for cancer care, we get referrals from all over the country.
"The challenge is funding their care, especially in chemotherapy, so, this donation will go a long way in assisting
patients," he said.