Group urges implementation of 2014 National Health Act
By Muhammad Auwal 
A total of 12 organisations, under the platform of Basic Health Care Provision Fund Social Accountability Network (BSAN) called for prompt take-off and implementation of 2014 National Health Act.
They made the call in a communique signed by all at the end of a two-day inaugural meeting of Non-State Actors on Health Issues in Abuja.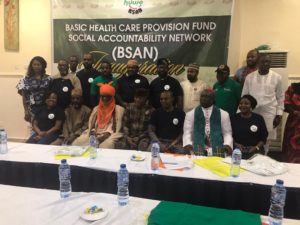 According to the group, the move is to ensure social accountability for Universal Health Coverage (UHC) for all Nigerians, and to promote transparency in the implementation of the Basic Health Care Provision Fund (BHCPF).
BSAN stated that the aim of the meeting of Non-State Actors on Health was to advocate for a nationwide institutionalisation and by-in to the UHC.
The group added that "after extensive deliberations, presentations, learning, sharing and discussions, BSAN agreed with the provisions of the National Health Act, signed into law on October 31, 2014, and provides for the release of 1 per cent Consolidated Revenue Fund (CRF) as BHCPF.
"The FCT Administration has started implementing the BHCPF, with current enrollment of 43,000 inhabitants into the programme across 62 wards in the six area councils of the territory, which has a population of over four million people.
"Since February 2018, USAID funded the Health Policy Plus (HP+) project and has been working in the FCT to strengthen the FCT health financing structures, and its capacity to capitalise on key health financing reform."
The network added that the Non-State actors were significantly involved in the utilisation of the BHCPF for UHC in Nigeria.
It, however, emphasised that there should be prompt release of the BHCPF to states and health facilities to support the implementation of UHC.
It added that states that had yet to pay their counterpart funding for the 1 per cent Consolidated Revenue Fund CRF should do so without further delay.
It further said that there should be inclusive and participatory Monitoring, Evaluation, Research and Learning (MERL) of the appropriation, release and utilisation of the BHCPF through partnership between members of BSAN, relevant agencies and beneficiaries involved.
The group stated that "BSAN shall strengthen awareness, sensitisation, mobilisation, capacity development and information sharing for UHC and BHCPF across all sectors and stakeholders.
"The FCT Minister should urgently set-up the FCT Primary Health Care Development Agency with its board inaugurated. Non-State actors must hold the system and stakeholders accountable."