By Asma'u Ahmad
A Gynaecologist at National Hospital, Abuja, Dr. Maureen Umeh, warned against Female Genital Mutilation (FGM) and called for its immediate halt.
Dr. Maureen gave the warning in an interview with newsmen in Abuja as the world marked the International Day of Zero Tolerance for Female Genital Mutilation on February 6.
She said the practice was a death trap and the procedure could lead to severe bleeding and urinary problems.
She added that "it can also lead to cyst, infection, infertility, complications in childbirth and increased risk of newborn deaths."
According to her, FGM includes procedures that intentionally alter or cause injury to the female genital organs for non-medical reasons.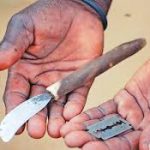 She said: "Female Genital Mutilation procedures involve partial or total removal of the external female genitalia and can injure the female genital organs for non-medical reasons.
"FGM has no health benefits and it harms girls and women in many ways. It involves removing and damaging healthy and normal female genital tissue and interferes with the natural functions of girls' and womens' bodies.
"Most the time, it is done without anesthesia for a child of tender age and the child is exposed to chronic pain, bleeding, sometimes leading to death."
Maureen said that some women and children were exposed to immediate or long term complications such as severe pain, shock, bleeding, tetanus, urine retention, open sores in the genital region and injury to nearby genital tissue.
She said some women experienced painful intercourse, thereby requiring surgery in the clitoris.
"The long-term consequences can include recurrent bladder and urinary tract infection, cyst, infertility, increased risk of childbirth complications and newborn deaths.
"The woman goes through repeated opening and closing procedures of surgery, further increasing and repeating both immediate and long-term
risks," she said.
The gynaecologist added that the procedure was mostly carried out on young girls sometime between infancy and age 15, and occasionally on adult women to avoid infidelity in marriages and reduction in sexual pleasures.