By Asma'u Ahmad
Health workers under the aegis of the Nigerian Union of Allied Health Professionals have threatened to embark on an indefinite strike on Feb. 27 over the deplorable state of the health system.
The workers said this at a rally held on Thursday in Lagos where they decried the current state of the health sector.
They also expressed their dissatisfaction over the non-implementation of the agreement the union had with the Federal Ministry of Health (FMOH) since 2009.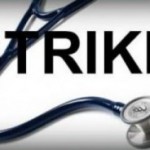 The union's national president, Mr. Obinna Ogbonna, said that the neglect of the system over the years had resulted to its decay both in administration and service.
"For years, Nigerians have decried the deplorable situations in our health system that needs serious attention. If Nigerians must be healthy and receive quality healthcare services, then this ugly trend must change.
"If nothing is done against the flagrant display of lawlessness, perversion of justice and the rot in the health sector accounting for millions of preventable pains and deaths in Nigeria before February 27, the union will be left with no other option than to declare a strike," he warned.
Mr. Ogbonna urged the FMOH to implement the agreement the union and the government jointly reached in order to curb the incessant strikes in the sector.
"The FMOH should recognise and obey court orders. It should give instructions to the chief medical directors (CMDs) of the various health institutions to ensure there is autonomy in their hospitals.
"They should also give freedom of expressions to other healthcare professionals in their various facilities. That will help us curb the incessant acrimony, strikes and disharmony in the health sector," he said.
Also speaking, the South-West Zonal Coordinator of the union, Mr. Eke Uzondu, urged the government to see to the welfare of workers within the FMOH.
The coordinator urged the government to make policies that would prevent strife, dichotomy, but rather policies that would build team spirit.