By Haruna Gimba
Nigeria's health workers under the aegis of Joint Health Sector Unions (JOHESU) and Assembly of Health Care Professionals (AHPA) have threatened to resume the strike they suspended on October 5, 2017.
The health workers also threatened to shut down public hospitals and research institutes nationwide over what they described as "recurrent failure of the Federal Government to implement agreements reached with them on September 30, 2017."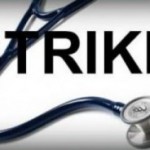 In a letter to President Muhammadu Buhari jointly signed by National Chairman of JOHESU, Biobelemoye Joy Josiah and the National Secretary, Ekpebor Florence, the union said the Federal Government has refused to address implement pending agreement.
"The JOHESU/AHPA wishes to make it abundantly clear that if the Federal Government refuses to redress these anomalies and injustice by implementing our pending agreements immediately, we shall have no choice than to succumb to the pressure of our members who have insisted on resuming their strike which was suspended on October 5, 2017.
"Unlike the last strike which was restricted to Federal Health institutions, the looming strike will be across board to include both states and Local Government Areas (LGAs) in Nigeria.
The JOHESU demand that the Federal Government redresses the impasse created by the seemingly endless vicious cycle of fruitlessness of our perennial negotiations to generate Memorandum of Understanding (MoUs), agreements and even circulars.