By Asma'u Ahmad
Health workers at the National Agency for Food and Drug Administration and Control (NAFDAC) headquarters in Abuja have joined the ongoing strike by Joint Health Sector Union (JOHESU), the media men  report.
When newsmen who visited the agency's headquarters on Tuesday reports that the office was deserted as no staffer was seen except few directors.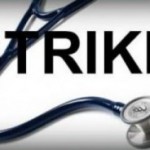 Mr Izi Isua, the Vice Chairman of Medical and Health Workers Union of Nigeria (MHWUN), NAFDAC chapter, told newsmen that his members were in total compliance of the strike by JOHESU because they were part of the union.
Mr Isua explained that the agitation by the mother union was for the benefit of all members, saying all their members in Abuja and other stations will ensure total compliance to the strike.
He said that the officials of the union had visited NAFDAC offices in Abuja and outstations to ensure that every member observed the strike.
According to him, the offices will remain closed until the strike is called off by JOHESU.
However, the vice chairman disclosed that the management of NAFDAC had met with the union officials on Monday pleading with them to call off the strike.
He stated that JOHESU had made it clear to the NAFDAC management that the strike would continue until the national secretariat directed otherwise.