By Asma'u Ahmad
The Kaduna State Government has met with Civil Society Organisations (CSOs) and Non-Governmental Organisation (NGOs) operating in the state to work out partnership arrangements for smooth implementation of its school feeding programme.
The state Commissioner for Education, Science and Technology, Professor Andrew Nok, who declared the meeting open in Kaduna, said the programme would resume in no distant time.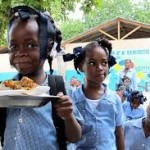 Prof. Nok, represented by Permanent Secretary in the ministry, Alhaji Adamu Mansur, said the programme, which was implemented in the state from January to August, 2016, could not continue due to some challenges.
He however assured that the challenges were being addressed.
He said that the meeting provided an avenue for relevant stakeholders to brainstorm on ways to achieve success.
Also speaking, the Director of Higher Education, Mr. John Gora, said the partnership was crucial to the success of the programme, particularly in the areas of monitoring and evaluation.
"The CSOs and NGOs would play crucial role in effective monitoring of the implementation of the programme throughout the state. Similarly, there is concern from stakeholders on the need for the programme to cover the first 1,000 days of a child.
"The argument is that, once the child missed the nutrients required in his first 1,000 days, the crucial stage in the development of the brain, there will be serious health, social and economic consequences," he said.
Mr. Gora said that 16,000 vendors would participate in the programme, adding that 13,670 vendors had been captured and their Bank Verification Number (BVN) verified.
Programme Manager, National Home Grown School Feeding Programme, Ms. Abimbola Adesanmi said that the Federal Government would take care of the feeding of pupils in primary one to three.
She said that under the arrangement state governments would take care of the feeding of pupils in primary four to six. According to her, the meeting will provide avenue to synchronise all interventions to ensure smooth take-off of the programme.
"We are in Kaduna State to learn from its experience and lesson learnt being a pioneer of the national school feeding programme. We equally want to see how the federal government as well as relevant CSOs and NGOs can support the process with expertise for successful implementation," she said.
Ms. Adesanmi urged state governments to design empowerment package for women to effectively feed the child.