By Asma'u Ahmad
Malnutrition has become a real and present danger in Nigeria as the country's population increases to 198 million people, a nutrition expert announced in Lagos on Thursday.
The Country Director of the think-thank, Helen Keller International (HKI), Mrs Philomena Orji, made the announcement, while speaking at the launch of the Nutrition and Healthy Lifestyle Project in Lagos.
She said that malnutrition was currently posing serious threats to Nigeria's increasing population, although majority of the people were making their living from agriculture.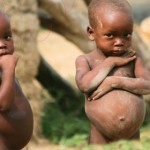 "Nigeria suffers from high level of food insecurity and malnutrition, including micro-nutrients deficiencies and poor child growth.
"The rate of stunting or chronic malnutrition is 37 per cent, resulting in life-long cognitive and physical deficits among the populace.
"Under-nutrition remains a major health problem among Nigerian school children, while over-weight and obesity are emerging problems in urban areas," Mrs Orji said.
She, however, attributed the increasing malnutrition in rural and urban areas across the country to a lack of knowledge on basic nutrition.
"Nutrition reports from the northeast is appalling, even in other parts of Nigeria where people are more privileged, we find that there is a lack of knowledge about nutrition.
"So even in the midst of plenty, we find out that people are not as nourished as they should be.
"A recent study shows prevalence rates of stunting and wasting of 17 and 14 per cent, respectively among primary school pupils in Ikeja as well 15 and 13 per cent over-weight and obesity.
"A study of 200 primary school children in Lagos revealed that 38 per cent were suffering from anemia."
Newsmen report that the HKI group has launched a $50 million commitment to promote healthy lifestyles, targeting nine primary schools in Lagos State.
Also speaking, a Representative of the Federal Ministry of Health, Mrs Eucharia Ekeh, harped on the need to include micro-nutrients in children's diet to help fight the growing trend of malnutrition in the country.
"Nutrition education has been a challenge in the country.
"According to national demographic health survey, the nutritional status of children under five is alarming, malnutrition is quite high.
"We have stunting rate at 37 per cent, wasting 18 per cent and under-weight 29 per cent.
"To solve the micro-nutrient deficiency, a major component of malnutrition, the Federal Ministry of Health now provides micro-nutrient powder.
"This powder is given to mothers to help boost the nutritional need of infants.
"Although only present in Kebbi and Taraba States, there is a plan to spread it across all states in Nigeria" Ekeh said.
On his part, the Director, Corporate and Government Affairs of Cadbury Nigeria Plc., Mr Bala Yusuf, lauded HKI for the initiative.
"We are happy to partner with Helen Keller International in this initiative that will help improve the wellbeing of children and adults in Nigeria.''