By Asma'u Ahmad
The Nasarawa State House of Assembly Committee on Health has called for full autonomy for the state tertiary health institutions for effective and quality health education in the state.
Chairman of the House Committee on Health, Mr. Mohammed Okpede made the call when the state Schools of Nursing and Health Technology defended their 2017 budget at the Assembly.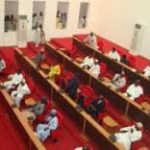 Mr. Okpede said that the committee would continue to partner with the state government to improve the quality of health education and ensure quality health care service delivery in the state.
"We want to assure you that we will continue to prioritise the standard of tertiary health education to produce qualitative health personnel for the state and the country at large.
"A healthy nation is a wealthy nation, hence the need for the Assembly and government to collaborate to ensure that the standard of health education is improved in the state.
"We are therefore seeking autonomy for the state health tertiary institutions in order to ensure quality health care delivery in the state and the country at large," he said.
Okpede directed the management of the schools to submit their enabling laws to assist the Assembly in improving the quality of tertiary
health education in the state.
He reaffirmed the commitment of the Assembly to continue to enact laws that had direct bearing on the health and wellbeing of the people of the state.