By Asma'u Ahmad
The Donor Care Manager, National Blood Transfusion Service (NBTS), Mrs Jane Akubuiro, has expressed concern over the daily decline in the number of blood donors in the country.
Akubuiro made this known in an interview with media men in Abuja on Tuesday. She said that the least expected daily number of donors per day ought to be 30 to be able to cater for the needs of the public.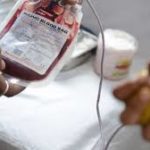 She, however, expressed concern that the service recorded five walk-in donors on the average per day in recent times. The NBTS official assured would-be donors of safety, saying "there will be adequate medical test for them to ascertain whether or not they are fit to donate or not.
"There will be Haemoglobin level test, pulse rate check, blood pressure check, weight check and other body checks. "Blood is also tested for blood group and screened for some major blood borne diseases which the donor is immediately informed in strict confidentially if any of these tests show positive results."
Allaying the misconception among some donors that blood donation could be dangerous, she said "when blood is withdrawn the donor's body immediately begins to replenish the lost blood.
"New cells are produced by the marrow within 48 hours of donation, and all of the red blood cells the donor loses during donation are completely replaced within one to two months. "Therefore, donating blood helps to stimulate the production of new blood cells which helps the body stay healthy and work more efficiently."
Akubuiro said NBTS would organise a donor's week to host and entertain donors at the Institute of Human Virology, Nigeria (IHVN), Abuja, as part activities marking the World Blood Donor Day on June 14. She called on philanthropists and stakeholders to donate food and drinks for the purpose of feeding the donors.
Meanwhile, a cross section of Abuja residents gave reasons on why they do not donate blood to include lack of education on the subject and none of their family members requiring transfusion.