By Asma'u Ahmad
The National Health Insurance Scheme (NHIS) says students and retirees would enjoy healthcare services through the Tertiary Institution Social Health Insurance Scheme (TISHIS) and Vital Contribution Health Insurance Programme (VCHIP).
Anambra State Coordinator of NHIS, Mrs Nneka Mezuo, told newsmen on Tuesday in Awka that with both programmes in place, contributors' and their loved ones could always benefit.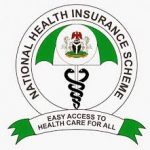 Newsmen  report that the TISHIS is designed to accommodate an employee's loved ones above 18, as being accommodated in the formal health scheme. "While VCHIP is a programme that caters for the employee when retirement sets in, for continuous access to affordable healthcare," she said.
Mezuo said that sensitisation of their programmes was ongoing for all Nigerians to understand their benefits. "We go to workplaces that have over 20 and above staff to conduct sensitisation workshops on how they can benefit from our programmes.
"Just recently, the Anambra Government has started educating staff of Ministries, Departments and Agencies on what they stand to gain from the programme. "We at NHIS are at the forefront of educating them; happily, the scheme has got to all Nigerians with the community-based programme for artisans, traders, farmers all included as well," she said.