By Asma'u Ahmad
Global health partners and implementers from 13 countries, including Nigeria, with a high burden of Tuberculosis (TB) have launched a programme to find and treat 1.5 million missing cases of TB by the end of 2019.
The new initiative is important in stopping the spread of TB and reaching the global goal of ending TB as an epidemic by 2030. A statement by Ibon Villelabeitia, Communications Specialist, Global Fund, said the new effort seeks to support a combination of innovative and targeted programmes to promote better use of data and approaches to find more missing cases of TB.
The 13 countries to implement the programme include Bangladesh, Democratic Republic of Congo, Indonesia, Myanmar, Nigeria, Pakistan, Philippines, South Africa, Tanzania, Ukraine, Kenya, Mozambique and India.
According to the statement, the decision is a fall-out from the 48th Union World Conference on Lung Health in Guadalajara, Mexico. It said that every year, 10.4 million people got sick with TB, which is a preventable and curable disease.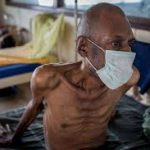 "Of those individuals, 40 per cent do not even receive care they are`missed' by health systems after failing to be diagnosed, treated or reported. The result is that many will die or continue to be sick and transmit the disease or if treated with improper drugs, contribute to the growing menace of drug resistance," the statement said.
The statement quoted Dr Eliud Wandwalo, Senior Disease Coordinator, TB, Global Fund, as saying: "Urgent action is needed to break the transmission cycle of TB and drug-resistant TB to save millions of lives.
"It is also to achieve the global goal of ending TB as an epidemic by 2030; the longer the delay in finding the missed cases, the longer it will take to reach global targets."
The Deputy Executive Director of Stop TB Partnership, Dr Sahu Suvanand, said: "This is a great opportunity for all of us to support countries in finding the missing people with TB. These are people who have been so far left behind in some of the most vulnerable and underserved populations.
The statement quoted Dr Akramul Islam, TB and malaria control programmes for BRAC, an NGO, as saying that the private and public health sector providers need to work closer to identify missing cases. "Despite all our efforts there are still too many missing cases. Without proper diagnosis and treatment of these missing cases, it will not be possible to meet our targets," Islam said.
The statement said: "Missing TB cases and drug-resistant TB are major challenges in fighting the disease and pose serious threat to global health security. Deaths from drug-resistant TB when tuberculosis bacteria is resistant to existing medication, now account for about one-third of all antimicrobial resistance deaths worldwide."
According to the National Tuberculosis and Leprosy Control Programme, Nigeria is ranked as the country with the fourth highest cases of TB worldwide. The statistics also showed that over 80 per cent of TB cases were still undetected, while it claimed over 1.5 million lives annually in the country.
Also, the 2016 Global TB report showed Nigeria as having the highest TB burden in Africa and ranked 4th in the world. The report also revealed that Nigeria was among the 10 countries that accounted for 77 per cent of the global gap in TB case finding.
In 2016, Nigeria notified less than 20 per cent of the total TB cases estimated for that year. Therefore, more than 80 per cent TB cases in the country were undetected, implying that there are lots of undiagnosed TB cases in the community which served as a reservoir for continued transmission of TB.