By Haruna Gimba
The Women Advocates Research and Documentation Center (WARDC), said that there are 814 deaths for every 100, 000 lives births in Nigeria, according to a World Health Organisation (WHO) figure.
Founding Director of WARDC, Dr. Abiola Akiyode-Afolabi, has decried the high rate of maternal mortality rate in Nigeria, saying the situation in country has remained the same since 2008.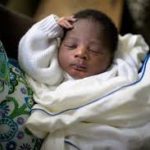 According to her, the figure has hardly changed since 2008 when Nigeria recorded 829 deaths for 100,000 live births.
The director stated this while presenting the report on assessment of efforts of government on reduction of maternal mortality and promotion of women's maternal health in Nigeria.
The finding which focused on Lagos and Kaduna states was conducted by WARDC and Center for Reproductive Rights (CRR) with the support of MacArthur Foundation.
She said access to maternal health facilities is still very poor even as the cases of detention of women who just give birth on account of not being able to pay medical bills remains high.
"This is approximately 58,000 maternal deaths annually, indicating that approximately 159 women die every day due to pregnancy related complications," she said.
She noted that a WHO report had in 2015 identified Nigeria as having the world's fourth-highest maternal mortality rate, lamenting that the situation has remained virtually the same.
She called for reduction of unwanted and unplanned pregnancies among adolescents by addressing barriers to reproductive health services and ensuring that all adolescents in Nigeria receive comprehensive and scientifically accurate sexual and reproductive health education.