By Asmau Ahmad
Pharmaceutical Society of Nigeria (PSN) yesterday Tuesday 17th October 2017 at Transcorp Hotel, Abuja has officially launched PSN Foundation and inaugurated its board of trustees.
"Today is one of the happiest days of my life. I am so elated to witness a day like this, where Pharmaceutical Society of Nigeria (our noble society) founded 90 years ago, one of the most organized, robust and oldest professional bodies in West Africa is taking the lead as the first professional body to launch a foundation in Nigeria. For emphasis, it is also on record that PSN is one of the few professional bodies in Sub-Saharan Africa to establish a foundation. This reaffirm our commitment to continue the tradition of our founding fathers and past leaders who have the vision of innovation, service to humanity and professional excellence." Says Pharm Ahmad Ibrahim Yakasai PSN President.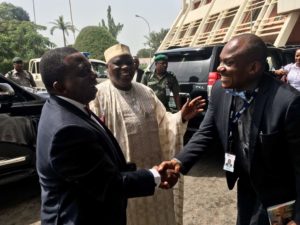 According to the event, PSN Foundation will promote research and development, promote education in the expansive field of pharmacy practice in Nigeria, it will also carter for the welfare of pharmacists and Nigerians at large and provide scholarships to deserving pharmacists and their children, and promote national development. Thus, the PSN Foundation will have the mandate to impact on the welfare and well-being of all Nigerians. The impact on the general public shall be delivered through well-articulated Public Health Campaigns and Programmes, Fight Against Fake, Substandard and Falsified drugs, Drug Abuse, Emergency Response (Humanitarian Assistance), Advocacy for Childhood and Family Health Diseases, like Nutrition, Pneumonia and Diarrhoea, Routine Immunisation, HIV/AIDS, Malaria Prevention and Treatment, Non Communicable Diseases and Maternal and Child Health. Our intention is to serve the vulnerable ones within the society to have optimum health.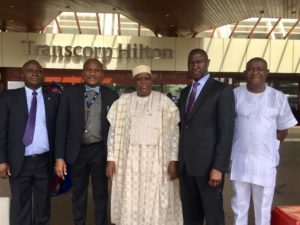 The Board of Trustees of the Foundation are as follows;
Former President of PSN, Pharm. (Alhaji) Mohammed Yaro Budah, FPSN mni as Chair
Lere Baale , FPSN, (Vice Chairman)
Remi Adeseun, FPSN, (Secretary)
Ike John Igwu, FPSN (Treasurer)
Margaret Ebigwelu-Ibru, FPSN, PhD (Public Relations Officer)
Gen (Pharm) Ibrahim Umar Babangida, Rtd,
Clare Omatseye
Joke Bakare
National Treasurer of PSN
President of PSN
The Minister of Health Prof. Isaac Adewole was among the dignitaries who graced the occasion.