By Mary Jalingo
In a bid to finally push polio out of Nigeria, over 50,000 children in Hard To Reach (HTR)  communities in Niger State have been reached with polio vaccine for the first time.
State Coordinator, HTR project,  Dr. Khalid Muhammad stated this during a media tour of the 850 HTR communities unicef is working in the state.
Dr. Khalid Muhammad said out of the 4,300 HTR statettlments,  the project has being able to visit 850 of these settlements at less 11-13 times since the inception of the project adding that in each of the sections conducted,  the teams were able to reach over 110,000 under 5 children and have had over 350,000 contact with these children.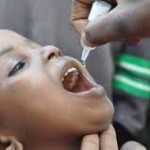 He said in the process,  most of these children who are in communities where they don"t have a health facility and where they have,  the closest functional health facility is about 5kms and even when it is less, the terrian is very difficult have been able to get their routine immunization as required.
He said through the project,  they have being about to point out to government their weakness,  capacity to plan and implement effective and efficient out reach services aim at providing quality healthcare services to those at the grassroot.
The state coordinator said in implementing the project,  one of the challenges faced was trying to stimulate government to take on the enormous responsibility of meeting the healthcare needs of those in HTR communities which he noted has being harpered by lack of funds,
He noted that in implementing, they also found out that there was sever shortage of healthcare workers which has made it impossible for facilities to be able to carry out out reaches but however commended the government for its effort in piloting out reaches in 3 local government areas of the state.
Also speaking, the Director of primary healthcare at Gurara local government council, Malam Ahmed Abdul Izom, commend unicef for picking Gurara as one of the LGA to implement the project which he said has help to improve the health status of his people especially women and children .