By Asmau Ahmad
A communique shared at the end of the 90th Annual National Conference of the Pharmaceutical Society of Nigeria observed the huge security risk to the Nigerian populace with respect to unavailability of medicines and vaccines and called on Government and all relevant stakeholders to prioritize local production of drugs to ensure availability of medicines at all times.
The conference with a theme "Medicines Availability and National Security" took place in Abia State from 6th to 11th November 2017 and declared open by His Excellency, Dr. Okezie Victor Ikpeazu, the Executive Governor, Abia State, Nigeria. Other dignitaries who participated at the conference included the wife of the President, Her Excellency, Hajiya Aisha Muhammadu Buhari, ably represented by the Former Deputy Governor of Plateau State, Her Excellency, Dame Pauline Tallen, His Excellency, the Deputy Governor of Abia State, Rt. Hon. Ude Oko-chukwu and his wife, Her Excellency Lady Vivian Ude Oko-chukwu.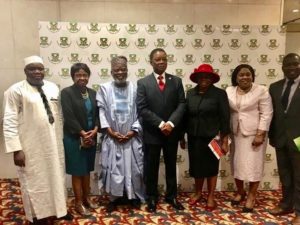 Another strong call was for investment in local production of active pharmaceutical ingredients (API) and to involve the likes of Dangote Group on requirements of the pharmaceutical industry to ensure those considerations are reckoned within the blueprint for Dangote's petrochemical plant.
The conference also recognised the important role of funding for the pharmaceutical industry especially for local production and distribution of drugs and called on pharmaceutical manufacturers to avail themselves of the available funding opportunities including Central Bank of Nigeria (CBN) Intervention funds, Bank of Industry (BOI) Intervention funds and Pharmaceutical Expansion Intervention funds.
The communique was co- signed by its President and Secretary, Pharm. Ahmed I.Yakasai, FPSN, FNAPharm, FNIM and Pharm. Emeka Callistus Duru respectively.
                          –