By Haruna Gimba
The National Association of Resident Doctors (NARD) have commenced a nationwide indefinite strike.
The resident doctors across Nigeria have resolved to proceed on the strike after a meeting of its national leadership that ended in the early hours of 
Monday
.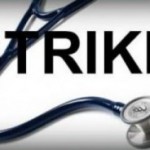 In a brief statement issued by the President of NARD, Onyebueze John, said the doctors has rejected offer by the government.
He said: "Rising from our NEC meeting, NARD has resolved to reject the promissory offer from the Federal Government, and proceed on total and indefinite strike action until all items in her demand list for strike action are resolved by Government."
An online medium had reported how the Minister of Labour had said 
on Saturday
 after a meeting with the doctors that the planned strike had been suspended.
The doctors later refuted the statement, saying though they met with the government, but were yet to take a decision.
The strike action is expected to adversely affect healthcare in public secondary and tertiary hospitals in the country, particularly the teaching hospitals.