By Asma'u Ahmad
The Nigerian Conservation Foundation (NCF) says planting trees is the easiest means of cleaning the air we breathe.
Director-General of NCF, Dr Mukhtari Aminu-Kano made the assertion at an event organised by the foundation to mark the 2019 World Environment Day in Lagos with the theme: "Beat Air Pollution.''
Newsmen report that World Environment Day is annually commemorated worldwide on June 5 with "Air Pollution" as the theme for year 2019.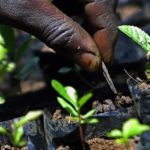 Aminu-Kano said that trees absorb pollutants in the air, clear them and bring clean air back to us.
According to him, the Lagos State Government and the World Bank set up seven centres in Lagos to test air pollution in Lagos and the Lekki Conservation Centre is one of the centres.
"The result of the test shows that Lekki Conservation is the least polluted area in Lagos. "This is because the Lekki Conservation has trees all around the whole place. It is not that there are no cars, waste, other pollutants around and in the centre.
"The trees help to absorb all the carbon dioxide emitted in the environment and make the air clean again," he said. Aminu-Kano said the cheapest way of beating air pollution is planting trees in commercial and residential areas, on the roads and all around us.
He said that bush burning, transportation, household, industry and waste were the five sources of air pollution in Nigeria. Aminu-Kano said that emissions from vehicles, chemicals from the industries, cooking with firewood and burning of waste all releases pollutants into the atmosphere.
He said the use of alternative source of power should be developed and concerted efforts made to stop the use of electricity generators sets as source of power in the country.
According to him, the regeneration of the power sector is a must to ensure that people do not rely more on use of electricity generators as source of power.
Aminu-Kano said that many deaths resulting from breathing in fumes from generators as well as chronic illnesses caused by breathing contaminated air were all preventable.
Also, Mr Diran Olojo, Group Head, First City Monument Bank (FCMB), said that the people's health depended on the quality of air they breathe.
According to him, sudden deaths are rampant in the magnitude not yet known due to pollutants in the air we breathe. Olojo said that global reports show that the quality of air in Nigeria is the dirtiest and this is alarming.
Consequently, he called for national, state, local, organisational and individual actions to combat the situation.