By Asma'u Ahmad
Several parents in Nasarawa on Monday heeded the State Government's advice to present their children and wards for vaccination against measles, media men report.
A correspondent monitoring the exercise at Ezhiba community in Akun Development Area of the state reports that large number of children turned out for the vaccination.
The vaccination, which commenced across the communities in the state on Feb. 15, will end on Tuesday. Parents were seen mobilising their children and wards towards the designated centres for the exercise to beat the Feb. 20 deadline.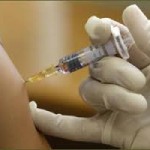 A house wife, Mrs Litini Thomas, told media men that "As you can see, we are complying with all measles immunisation response through mobilisation of our children towards eradicating the deadly diseases in the state and the country at large.
"Measles is a deadly disease and we are mobilising our children for the exercise because we want to eradicate the deadly disease in the country. I am also commending the state and federal governments for giving adequate attention to the measles and other health programmes for the purpose of improving the health of the people," he said.
Thomas called on other parents yet to vaccinate their children against measles to avail their children the opportunity in their interest. Another parent, Mr Nicodemus Bulus, said that he took his child for the immunisation considering the importance of the measles vaccination to health.
"In fact, I commend the government for the exercise and for enlightening the people on the vaccination. It is safe for children's health and not harmful to children in any way.
"We are complementing government efforts and in the interest of the health of our children; that is why, as you can see, we have mobilised our children for the vaccination," he said.
Ms Ashe Godwin, another parent, told the media men that: "I brought my little brother for the vaccination because my parents directed me to ensure that he should be vaccinated.
"I want to thank governments for their continued attention to the health sector. I am calling for its sustenance and I also want to call on all stakeholders to play a role in ensuring that every child in his/her area is vaccinated."