By Asma'u Ahmad
The World Health Organisation (WHO) says it will collaborate with Gavi, the Vaccine Alliance, carry out the largest cholera vaccine distribution in Africa to tackle the rise in the disease's outbreak in the region.
WHO announced on its Twitter handle @WHO that the vaccine, which was sourced from the global stockpile, will reach more than two million people in Nigeria, South Sudan, Uganda, Malawi and Zambia. It said that 1.2 million doses would be sent to Nigeria to contain an emergency outbreak in Bauchi where more than 1700 cases have been reported.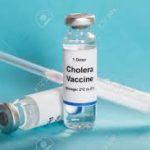 WHO said that one million doses of the cholera vaccine would also be sent to Malawi to combat an outbreak which has infected more than 900 people across the country. According to the World health body, 360,000 doses of the vaccine have been shipped to Uganda to protect 360,000 people in Hoima District, Western Uganda, after an outbreak in Kyangwali refugee camp hospitalised more than 900 people.
"About 667,100 doses of cholera vaccine are being delivered to Zambia as part of the second round of vaccination to the Lusaka slums after a major outbreak infected over 5,700 people killing more than 100. "Another 113,800 doses have been shipped to South Sudan as a preventive measure ahead of the war-torn country's rainy season.
"The vaccine campaign in the region which will be completed by mid-June is being implemented by the countries respective Ministries of Health with support from WHO and partners of the Global Task Force on Cholera Control (GTFCC)," WHO said.
It said that between 1997 and 2012, just 1.5 million doses of cholera vaccines were used worldwide but in the first four months of 2018 over 15 million doses have been approved for use worldwide. WHO said that the organisation was taking every measure to ensure that there was enough vaccine supply to keep the Global stockpile topped up and ready for eventualities.
It however, said that even with the consistent distribution of the vaccines, more and more people were still dying from the disease reiterating the need for improved water and sanitation. The organisation said that this was the only long term sustainable solution to the disease.
It said that the push to ensure availability of the vaccine to countries experiencing outbreak was borne out of the Global target to reduce cholera deaths by 90 per cent by 2030.
WHO quoted its Director-General, Dr Tedros Ghebreyesus, as saying "Oral cholera vaccine is the key weapon in our fight against cholera but there are other things we need to do to keep people safe. "WHO and its partners are saving lives every day by improving access to clean water and sanitation, establishing treatment centres, delivering supplies, distributing public health guidance, training heath workers and working with communities on prevention.
WHO said that the oral cholera vaccine was recommended to be given in two doses stating that the first gives protection for six months while the second gives protection for three to five years.