By Haruna Gimba
A research by the Africa Check, a fact-checking organization, says the number of Nigerian doctors working in the United Kingdom has been increasing rapidly.
It was reported that the number of Nigerian doctors registered with the UK General Medical Council nearly doubled last year, an increase of 89 per cent.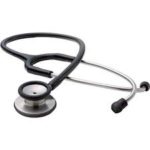 "In 2016, a total of 245 doctors registered in the UK. The number sharply rose to 439 in 2017, taking the number of doctors to 5, 060," Africa Check said.
The report added that so far this year, an average 12 Nigerian doctors were being registered every week, "bringing the total number to 5, 250 on April 28."
Health Reporters gathered that when the data was listed for the first year in 2006, it showed that 2,692 Nigerian doctors registered in the United Kingdom.
The BBC correspondent in Lagos, Stephnie Hegarty, says it is not clear yet why the numbers have risen so rapidly. Hegarty says brain drain of this kind is a huge challenge for health system in Africa.