Founded in August 2014, Health Reporters (HR) is an online Health Newspaper, a non-profit platform hosted by the Africa Health Budget Network. It raises the visibility of health by reporting factual news and events, analyzing health issues as well as promoting accountability and transparency for health and other determinants of health in Africa.
Follow us @HReporters and https://web.facebook.com/HealthReporters
The Africa Health Budget Network (AHBN) is a network of organizations and individuals using budget advocacy to improve health in Africa. AHBN advances and embeds improvements in health budget allocation, spending, transparency, participation, and accountability and health financing reforms in Africa.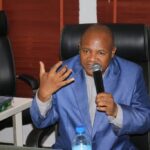 Haruna Gimba, a Gombe State born journalist obtained a Bachelor's Degree in Mass Communication and Masters in Communications Studies from Bayero University, Kano in 2010 and 2016 respectively. He has been practicing journalism across broadcast, print and online platforms since his graduation from university in 2010. He won numerous awards, attended several conferences, seminars and workshops as well as covered international events both within and outside the country.
From January 2016 to May 2020, he edited the Health Reporters and appointed as the substantive Editor of Health Reporters in December 2020, working alongside other team members of the Africa's Online Health Newspapers.
His journalism skills were sharpened by over eight years working with the Daly Trust Newspapers and worked briefly as its Bureau Chief at the Sokoto Bureau Office of Daily Trust Newspapers. He now freelances with the Daily Trust Newspapers as their correspondent from Gombe State.