We are aware that a 20 member team made up of members from National Assembly and the Federal Executive Council are holding final round of consultations and meetings today (Monday) and may be tomorrow  (Tuesday) on the inconclusive areas of 2016 Federal Budget. The committee has demonstrated commitment as they forfeited their public holiday to consider this task. President Muhammadu Buhari was said to be 'anxiously awaiting' for the budget to sign it and hit the ground working.
According to our sources, members of the committee from the National Assembly are House of Reps Deputy Speaker Lasun Yusuf, Senate Leader Ali Ndume, Sen. Danjuma Goje (Chairman, Senate Committee on Appropriation), Hon. Abdulmumin Jibrin (Chairman, House Committee on Appropriation) Sen. Biodun Olujimi, From the Executive are the Minister of Budget and National Planning Udo Udoma; Minister of Power, Works and Housing, Babatunde Raji Fashola; Minister of Transportation Rotimi Amaechi; Minister of Solid Minerals, Kayode Fayemi; Minister of Labour and Productivity, Chris Ngige; Minister of Agriculture,  Audu Ogbeh; Minister of Water Resources, Suleiman Adamu; Minister of Education, Mallam Adamu Adamu; and Minister of Health, Prof Isaac Adewole.
While the budget is being finalize, it is imperative to remind the committee that Nigerians are aware that in the initial budget that was passed by the national assembly 4 Billion Naira was slashed from funds allocated to Routine Immunization and Polio Eradication. In the 2016 budget presented by President Buhari in December 2015, about 8 Billion Naira was allocated for Routine Immunization and Polio Eradication respectively and in what was returned to him 50% each of the allocation was slashed. We want to believe that the national assembly slashed these funds not intentionally to starve the health sector but because they might not be fully aware of significance of these allocation and the consequence of their actions.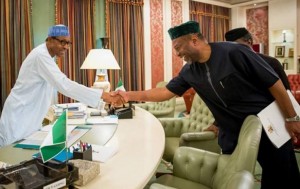 With a GDP of about $510 billion in 2014 it has now become the biggest economy in Africa ahead of South Africa which has occupy the 1st position for a long time. Nigeria that has over the years being enjoying support from GAVI (Global Alliance for Vaccine ) to finance its Routine Immunization Programme which was reported to contribute significantly to reduction of under-five mortality rate. From 2017 by virtue of its 'LMIC' status, the country will commence transition process from GAVI support. GAVI transition is calculated at 15% increase in Nigeria co-financing in 2017, and linear increase in co-financing obligation between 2017 and 2021.  In 2022, the full market price occurs, and Nigeria will pay the full cost of device and average freight for new vaccines. Having said that last year (2015) Nigeria couldn't provide its counter funding, World Bank had to bail us out with a loan of $200 million.
With the World Bank facility of $200m, Nigerian government had purchased enough vaccines that would last up to 3rd quarter of 2016, hence NPHCDA only allocated  about N4 billion of the  2016 requirement  that would  be sufficient to cover the last and 4th quarter of 2016. If we didn't have the surplus of the vaccines purchased with the World Bank loan, this year our requirement to purchase vaccines would have being 14.4 Billion Naira not N4 Billion Naira.
We must also commend the courage of National Civil Society Organizations that gathered under the banner of PACFaH project during the February 2016 C4C led RMNCH Summit to review and analyze the 2016 budget and presented their recommendations to the national assembly with the aim of ensuring adequate allocation not only to Routine Immunization but other elements such as Nutrition and Family Planning.
Health Reporters (HR) strongly calls on  President Muhammad Buhari before signing this budget this week to cross check and ensure the committee has provided adequate allocation to Routine Immunization.