Written by Maymunat Abdulrahman
CovidNigerianMedics has donated 1000 Face shields to Doctors and Nurses in Kano. This is contained in a press statement shared with press today  by the group's steering committee. According to the statement, face shields are personal protective equipment devices that are used by health workers be it medical, dental, veterinary) to protect facial area and associated mucous membranes (eyes, nose, mouth) from splashes, sprays, and spatter of body fluids.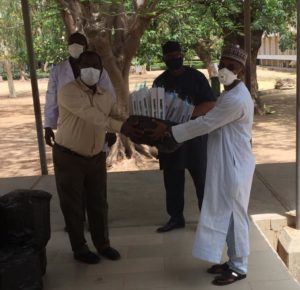 CovidNigerianMedics is a group of concerned & committed Nigerian Health Workers at home and in diaspora volunteering their time & resources to curb the COVID 19 Pandemic. Conscious of the fact that health workers are on the frontline and are at risk of contracting Covid19, ensuring their protection has become paramount to all well-meaning Nigerians. There are reports all over the country of health workers been infected with Covid19 in the line of duty. It is in that light that the CovidNigerianMedics strive to support donation and free distribution of personal protective equipment including face shields, face masks, gowns, gloves to mention but a few throughout Nigeria. The group slogan "Together we stand with Health workers" is indeed a game changer in ensuring all health workers are protected where ever they are.
As at 11:40pm on Tuesday 5th May 2020 according to the Nigerian Center for Disease Control, Nigeria has a total of 2950 Confirmed Cases, with 2371 active cases, 481 discharged and has recorded 98 death. Lagos, Kano and Abuja have confirmed cases of 1226, 397 and 307 respectively as captured by the press statement.
Represented by a member of its Steering Group, Engineer Sani Umar, the CovidNigerianMedics has via the Nigerian Medical Association Kano State Chapter and National Association for Nigerian Nurses and Midwives Kano State Chapter distributed 1000 face shields with 700 donated to doctors and 300 to Nurses and midwives. The group while donating these items has called on the associations to utilize them judiciously and ensure adequate distribution to health facilities in line with the associations' membership strength and burden of COVID19 infection.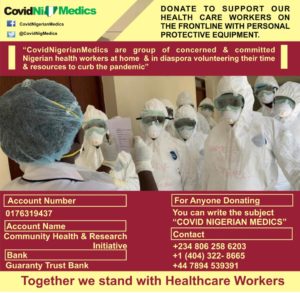 The group enjoys the generous in-kind and financial contribution of its dedicated members both at home and in diaspora in discharging its functions as well as other well-meaning Nigerians interested in the survival and protection of health workers. It also called on corporate groups and individuals to continue donating to enable this worthy cause become sustainable, successful and to spread to all the 36 states of the federation including Abuja.