By Haruna Gimba
Ministers of Health and representatives from 26 countries have recommitted to the pledge of women's and children's survival.
Rising from a two-day high-level summit at Addis Ababa, Ethiopia co-hosted by the Governments of Ethiopia and India, the fourth since 2012, the ministers celebrated the progress made to date on maternal and child survival, and provided a forum to share best practices and lessons learned in order to overcome persistent barriers.
Despite significant reductions in maternal and child deaths since 1990, nearly 6 million child under-five still die every year of largely preventable causes, as well as approximately 300,000 women who die due to complications in pregnancy and childbirth.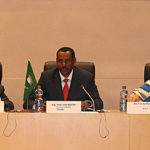 World Health Organiations (WHO) Director-General, Dr Tedros, in his former role as Ethiopian Minister of Health from 2008-2012, was central to the first 'Child survival call to action' in 2012, and also oversaw great investments and improvements in maternal and child health in his country.
"Since I was the co-chair, along with India, UNICEF, and USAID, of the first Child Survival Call to Action Conference in 2012, I am especially pleased to be part of the fourth Acting on the Call Summit, which continues to bring attention to this critical issue," said Dr Tedros, speaking to the summit by video address.
"I am firmly convinced that we cannot attain the ambitious targets of the SDGs unless we improve the health, dignity and rights of women, children and adolescents," he stated.
WHO Assistant Director-General, Dr Flavia Bustreo, together with the Minister of Health from Ethiopia and Additional Secretary for Health from India, co-chaired a Ministerial Conclave on the second day of the summit.
The Ministerial Conclave called upon the 26 countries – many of whom still have a high burden of maternal and child deaths, to share their progress and identify key bottlenecks and barriers that are hindering greater progress.
Indian Additional Secretary for Health, Mr Manoj Jhalani, Ethiopian Minister of Health, Prof. Yifru Berhan, and WHO's Assistant Director-General, Dr Flavia Bustreo co-chair the Ministerial Conclave.
The Ministerial Conclave concluded with a Ministerial Declaration, in which the 26 countries committed to redoubling efforts to achieve the ambitious targets set out by the sustainable Development Goals and the Global Strategy for Women's, Children's and Adolescents' Health of ending the preventable deaths of women and children within a generation.
To achieve this, Ministers agreed to focus on improving the quality of care, including respectful maternity care, tackling inequities, strengthening health systems, and increasing domestic financing for women's and children's health. Ministers also recognized the need to improve health beyond survival.
"We must not forget that there are many important issues beyond survival that need our most innovative thinking and creative solutions. After all, our global strategy is to survive, thrive, and transform," Dr Tedros said.