By Asma'u Ahmad
The Kebbi State House of Assembly has called on the state government to revive the monthly environmental sanitation programme in the state.
The legislators made call in Birnin Kebbi via a motion that was moved by the Deputy Speaker, Alhaji Muhammadu Aleiro.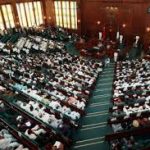 The deputy speaker stressed that the importance of good health and good living could not be over-emphasised, saying: "Hygiene promotes the the people's physical, mental and social well-being."
He recalled that during the military era, a monthly environmental sanitation was always organised, while there was total compliance with the policy throughout the state.
"We want the restoration of the environmental sanitation; we want our surroundings to be clean and dirt-free. We will not tolerate elements that cause our environment to be unfriendly and unhygienic," he said.
Aleiro urged the state government to give priority to environmental sanitation issues, while giving adequate financial resources to all the agencies in charge of the environment.