"Delighted to have esteemed visitors including Mr Bill Gates and Alhaji Aliko Dangote. We are committed to reach 80% coverage of Immunization and to sustained delivery of quality and safe vaccines to our children. We are committed to be responsible and responsive partners in this MoU and Kaduna State has already paid its counterpart funding of N180 million to the tripartite basket fund for Immunization".  Says Mallam Nasir Elrufai the Executive Governor of Kaduna State and the chief host of this august meeting.
"This signing of agreement marked the beginning of partnership in Sokoto State and our presence here today is a demonstration of commitment. We have already acknowledgement the Routine Immunization  is already low in our state and we are committed to improve its coverage and pay our counterpart funding to the agreement before end of February 2016. And by December 2018 we are committed to reach 80% Immunization coverage as we have establish our state primary health care development agency and we will work hard to strengthen its operation." Says Alhaji Aminu Tambuwal the Executive Governor of Sokoto State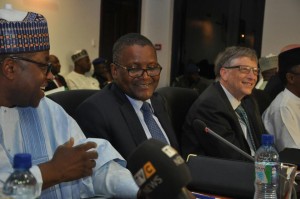 "I want to assure our benefactors that we are committed to the highest degree to immunize all eligible children in Yobe State and to strengthen supportive supervision, monitoring and evacuation as well as comst4uction of vaccines stores and to pay our counterpart funding." Says Alhaji Ibrahim Geidam the Executive Governor of Yobe State
"We have no option but to be fully committed to Routine Immunization as in te past 20 out of 27 of our LGAs were grounded to zero due to insurgency. We are committed to revamp our primary health care to improve coverage of Routine Immunization and to pay our counterpart funding soonest." Says Alhaji Kashim Shetimma the Executive Governor of Borno State.
"We are committed to saving lives of our children and to demonstrate such, we have allocated 15% of our total budget to health sector in line with Abuja 2001 declaration and we have also launched a 5 point health agenda tagged 'Lafiya Garkuwa' and one of its pillars is to improve coverage of Routine Immunization. Last year we have paid fall our counterpart funding and we will pay 50% of this year's requirement before end of February." Says Barrister M A Abubakar Executive Governor of Bauchi State
"We are committed to pay our counterpart funding for this year before end of this month and we are committed fully to Routine Immunization. As Kano State is the pilot for the MoU we are delighted that we have gotten one year extension to improve the gains of previous years and we remain resolute in doing what is need to ensure all eligible children are fully immunized." Says Dr Abdullahi Umar Ganduje the Executive Governor of Kano State.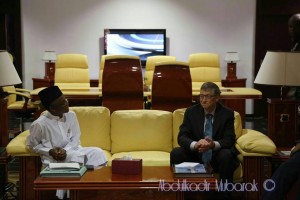 The above were the powerful commitments made by our 6 northern governors to improve Routine Immunization at the influential ceremony hosted by the executive governor of Kaduna State inside the government house on Wednesday 20th January 2016. The founder of Microsoft, Mr. Bill Gates and President of Dangote Group, Alhaji Aliko Dangote were physically in attendance and signed a Memorandum of Understanding (MoU) with the 6 northern Nigerian Governors to strengthen Routine Immunization in the region. The two philanthropists entered into the partnership with governors of Bauchi, Borno, Kano, Kaduna, Sokoto and Yobe States through Bill and Melinda Gates Foundation and Dangote Foundation respectively, to eradicate Polio and other childhood killer diseases.
Speaking after signing the agreement, Bill Gates said "his foundation is determined to eradicate polio and other related childhood diseases in Africa and globally through partnership with various states and countries. He commended the states governors for allocating a substantial sum of their annual budget to health sector."
The MoU for the tripartite agreement has set the stage for coordinated RI program in the 6 states by pooling RI funds into one pot. The objective is to reach a sustainable rate of 80% immunization coverage over the MoU 3 year period.
The roles and responsibilities of parties are;
Governance and leadership: The State Task force on immunization (SITF) headed by Deputy Governors will provide leadership and oversight for the RI program with support from the partners. The states will establish a budget line for RI and a Basket Fund managed by the state primary health care development agency and establish a direct reimbursement system. The states and the partners will contribute funding annually to the Basket Fund (30/70, 50/50, 65/35 and 100/0) respectively.
Before the commencement of the MoU all the states had experienced Routine Immunization low coverage. Inadequate funding, weak vaccine supply chain and poor data management.
The 6 governors had made their commitments and now the stage is set for implementation.
All comments to Dr Aminu Magashi Publisher Health Reporters (healthweekly@yahoo.com)