By Muhammad Auwal
Civil Society Organisations in Kano State have called for the declaration of a state of emergency to contain acute malnutrition in the state.
The organisations, International Society of Media in Public Health and Civil Society Legislative Advocacy Centre (CISLAC), made the appeal in Kano at a training workshop for Journalists on acute malnutrition cases Northern states.
Hauwa Abbas, who spoke for the CSOs, said althogh Kano state has the highest number of affected children in the region, its stock of Ready to Use Therapeutic Food (RUTF) had depleted over the past eight months, leaving  affected children in serious danger.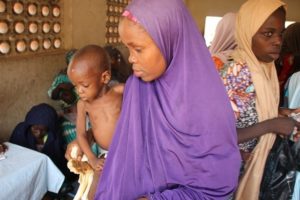 She said it was important for the state government to declare a state of emergency on malnutrition in order to avert persistent deaths of children.
Abbas who described the situation as worrisome, said the challenge has continued to pose increasing rate of deaths amongst severely malnourished children.
The two CSOs also called on Northern states governments to prioritize sustainable treatment and prevention of Severe Acute Malnutrition through enhanced Community Based Management of Acute Malnutrition (CMAM) programmes.
She attributed the situation in Kano to the delay in the release of funds to sustain CMAM activities including timely procurement of RUTF for the treatment of acute and severe malnutrition.
Abbas therefore urged all states to sustain the budget for nutrition and ensure timely releases of funds for the procurement of RTUF.
She accused Northern states governments of neglecting the pervassive problem of acute malnutrition, saying that apart from funding, people need to be educated on nutrition using local foods.
Abbas stressed that good nutrition has bearing on the socio-economic development of individuals and nations, as such should not be taken lightly.
She challenged governors and other stakeholders to explore how food systems can be transformed to provide better nutrition for all people, display the political will to end malnutrition and scale up investment in nutrition for children.
NAN recalls that in April 2016 the UN declared the start of an International Decade on Nutrition to provide an umbrella under which diverse actors can collaborate to follow through on commitments made at the 2014 2nd International Conference on Nutrition.
The declaration is also to meet the nutrition-related targets of the Sustainable Development Goals (SDGs) that UN member nations have adopted.